Eliot Charles Pringle (21 Oct 1874 - 25 Apr 1913)
Individual Report for Eliot Charles Pringle.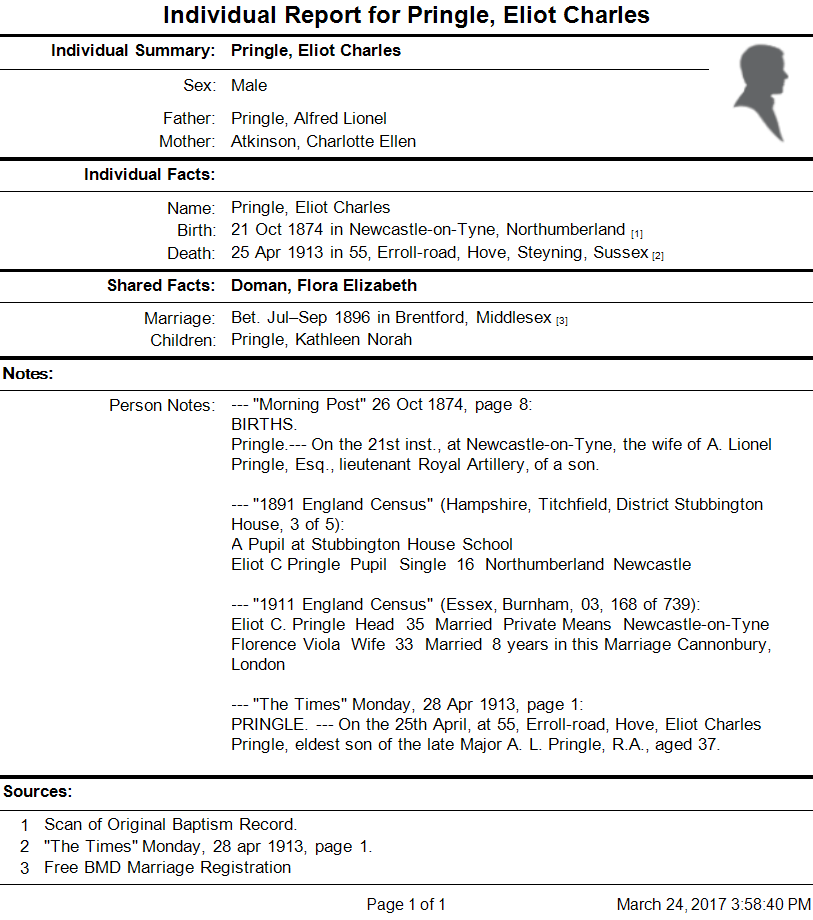 Sex: Male
Father: Alfred Lionel Pringle
Mother: Charlotte Ellen Atkinson

Individual Facts:
Birth: 21 Oct 1874 in Newcastle-on-Tyne, Northumberland [1]
Death: 25 Apr 1913 at 55 Erroll-road, Hove, Steyning, Sussex [2]

Spouse: Flora Elizabeth Doman
Marriage: Bet. Jul-Sep 1896 in Brentford, Middlesex [3]

Children:
Kathleen Norah Pringle

Person Notes:
— "Morning Post" 26 Oct 1874, page 8:
BIRTHS.
Pringle.--- On the 21st inst., at Newcastle-on-Tyne, the wife of A. Lionel Pringle, Esq., lieutenant Royal Artillery, of a son.

— "1891 England Census" (Hampshire, Titchfield, District Stubbington House, 3 of 5):
A Pupil at Stubbington House School
Eliot C Pringle Pupil Single 16 Northumberland Newcastle

— "1911 England Census" (Essex, Burnham, 03, 168 of 739):
Eliot C. Pringle Head 35 Married Private Means Newcastle-on-Tyne
Florence Viola Wife 33 Married 8 years in this Marriage Cannonbury, London

— "The Times" Monday, 28 Apr 1913, page 1:
PRINGLE. – On the 25th April, at 55, Erroll-road, Hove, Eliot Charles Pringle, eldest son of the late Major A. L. Pringle, R.A., aged 37.

Sources:
1 Scan of Original Baptism Record
2 "The Times" Monday, 28 apr 1913, page 1
3 Free BMD Marriage Registrations