Maria Pringle (Abt. 1800 - 09 Apr 1878)
Individual Report for Maria Pringle.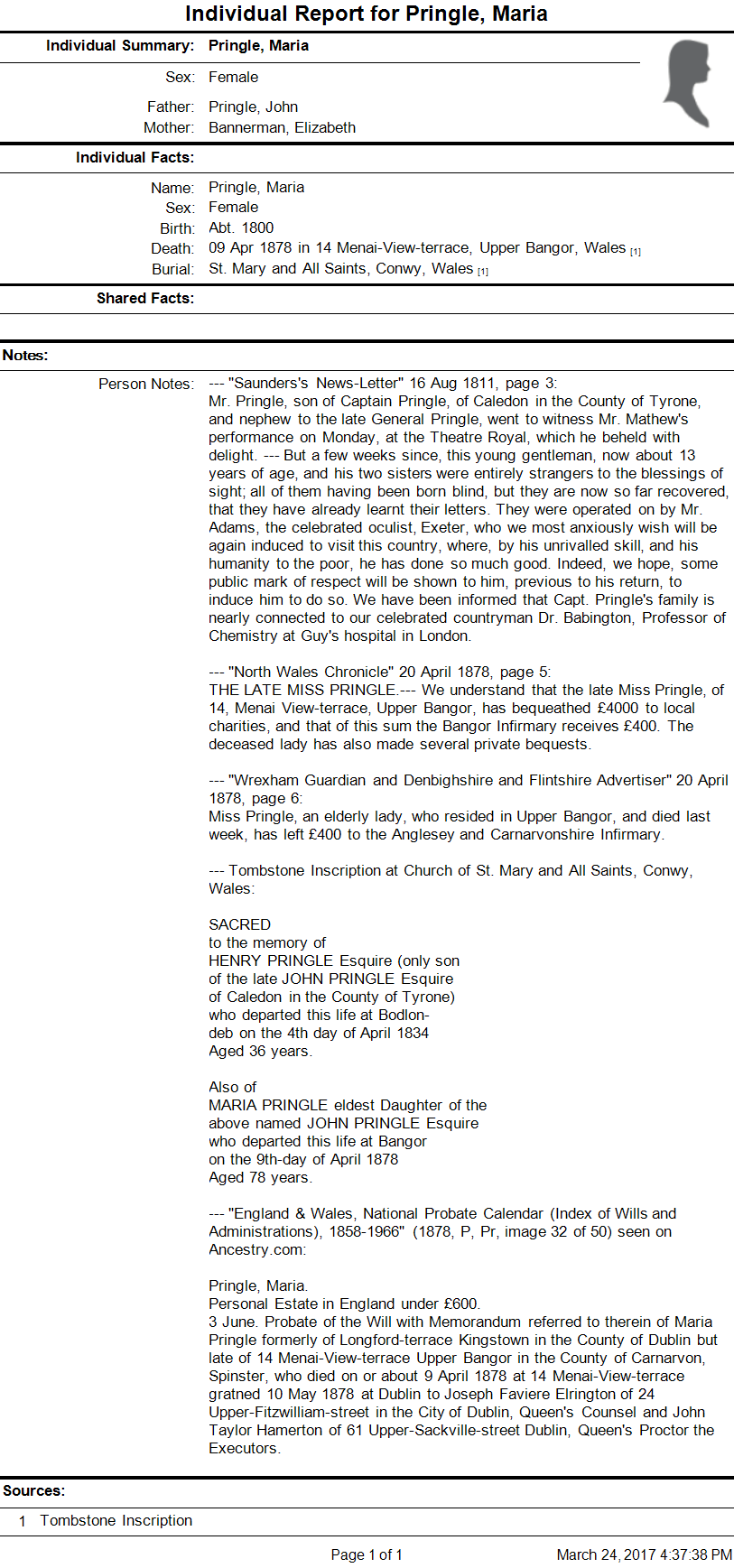 Sex: Female
Father: John Pringle
Mother: Elizabeth Bannerman

Individual Facts:
Birth: Abt. 1800
Death: 09 Apr 1878 at 14 Menai-View-Terrace, Upper Bangor, Wales [1]
Burial: St. Mary and All Saints, Conwy, Wales [1]

Person Notes:
— "Saunders's News-Letter" 16 Aug 1811, page 3:
Mr. Pringle, son of Captain Pringle, of Caledon in the County of Tyrone, and nephew to the late General Pringle, went to witness Mr. Mathew's performance on Monday, at the Theatre Royal, which he beheld with delight. --- But a few weeks since, this young gentleman, now about 13 years of age, and his two sisters were entirely strangers to the blessings of sight; all of them having been born blind, but they are now so far recovered, that they have already learnt their letters. They were operated on by Mr. Adams, the celebrated oculist, Exeter, who we most anxiously wish will be again induced to visit this country, where, by his unrivalled skill, and his humanity to the poor, he has done so much good. Indeed, we hope, some public mark of respect will be shown to him, previous to his return, to induce him to do so. We have been informed that Capt. Pringle's family is nearly connected to our celebrated countryman Dr. Babington, Professor of Chemistry at Guy's hospital in London.

— "North Wales Chronicle" 20 April 1878, page 5:
THE LATE MISS PRINGLE.--- We understand that the late Miss Pringle, of 14, Menai View-terrace, Upper Bangor, has bequeathed £4000 to local charities, and that of this sum the Bangor Infirmary receives £400. The deceased lady has also made several private bequests.

— "Wrexham Guardian and Denbighshire and Flintshire Advertiser" 20 April 1878, page 6:
Miss Pringle, an elderly lady, who resided in Upper Bangor, and died last week, has left £400 to the Anglesey and Carnarvonshire Infirmary.

— Tombstone Inscription at Church of St. Mary and All Saints, Conwy, Wales:

SACRED
to the memory of
HENRY PRINGLE Esquire (only son
of the late JOHN PRINGLE Esquire
of Caledon in the County of Tyrone)
who departed this life at Bodlon-
deb on the 4th day of April 1834
Aged 36 years.

Also of
MARIA PRINGLE eldest Daughter of the
above named JOHN PRINGLE Esquire
who departed this life at Bangor
on the 9th-day of April 1878
Aged 78 years.

— "England & Wales, National Probate Calendar (Index of Wills and Administrations), 1858-1966":

Pringle, Maria.
Personal Estate in England under £600.
3 June. Probate of the Will with Memorandum referred to therein of Maria Pringle formerly of Longford-terrace Kingstown in the County of Dublin but late of 14 Menai-View-terrace Upper Bangor in the County of Carnarvon, Spinster, who died on or about 9 April 1878 at 14 Menai-View-terrace gratned 10 May 1878 at Dublin to Joseph Faviere Elrington of 24 Upper-Fitzwilliam-street in the City of Dublin, Queen's Counsel and John Taylor Hamerton of 61 Upper-Sackville-street Dublin, Queen's Proctor the Executors.

Sources:
1 Tombstone Inscription & "North Wales Chronicle" 20 Apr 1878, page 5